|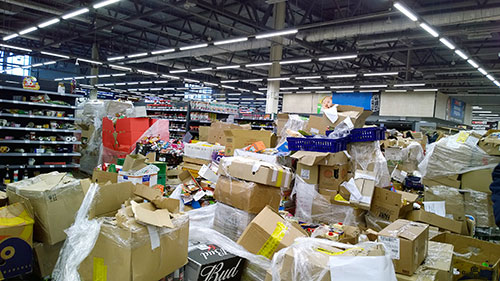 The UK generates more than 40million tonnes of commercial and industrial waste every year. Some of this is the result of day-to-day operations, and some of it the result of one-off events such as businesses reaching the ends of their leases, moving elsewhere or closing down completely.
Whatever the reasons for the rubbish, disposing of it can be far more challenging than getting rid of domestic refuse. Here ASAP Clearances, who offer commercial waste clearance services in London, look at some of the additional challenges businesses face when disposing of their unwanted items – and why putting it in the hands of a commercial waste clearance company is a sensible solution.
The Legal Restrictions
Even if you opt to dispose of your own commercial waste, there are a number of regulatory hurdles to comply with; these are put in place to protect the environment as well as your staff. According to the Government's own website, you have a duty to make sure any waste is kept to a minimum in the first place. You also need to complete a waste transfer note for every load which leaves your premises, and you also need to check that your carrier has a licence.
And, if you run your business from home, then you could get into trouble if you mix your work-related waste with your domestic refuse. For example, grass cuttings from a hotel garden count as commercial waste. People have been fined for failing to separate the two types out properly.
All of this is a lot of extra work for a business owner, so it's much better to put everything in the hands of qualified, legally-registered experts like ASAP Clearances.
The Volume
As commercial waste covers everything which is generated from a business activity, the type of rubbish can include:
Biodegradable, medical and chemical waste (mainly for science and healthcare locations)
Electronic and electrical waste
Demolition and construction waste (particularly for building sites and mineral extraction)
Shop stock waste
For larger businesses and organisations, the amount of waste generated can be considerable. Even for smaller companies, the challenge can be considerable because some individual items can be quite large – and major events like a move or the end of a lease, even for the smallest firm, can also generate a lot of unwanted stock and office equipment. Again, it's far better to use a specialist waste clearance company than try to handle all this yourself.
The Health Hazards
On an individual level, waste items can contain a lot of sharp edges as well as being very heavy. This means whoever handles the waste needs to be careful not to suffer any cuts or abrasions, and to avoid straining their back whenever they move it.
And, as can be seen from the list above, a lot of types of commercial waste can be hazardous in themselves – especially medical waste, which could have been contaminated by harmful germs or disease-carrying pathogens. Professional waste clearance companies know how to move all types of items (large or small) and wear PPE to minimise the risk to themselves.
Environmental Protection
Many types of commercial waste can be damaging to the environment as a whole, and not just individuals. Electronic waste such as tablets, laptops and mobiles, for instance, contains lead, mercury and a whole host of other elements which can leak into soil and water if disposed of incorrectly.
When anything is sent to landfill, there is a risk of earth, water and air pollution, particularly if the site already contains a lot of rubbish.
Professional waste clearance companies, with their expert knowledge of the law, know what can be recycled (even if it's just part of an item) and what can't, and who to send them to, to minimise any environmental damage.
Opportunity Cost
If you opt to do it yourself, then the time you spend clearing up your waste would probably be better spent on other, more profit-oriented activities of your business. There may also be cost implications if you need to pay someone on the staff to dispose of the rubbish as well.
By using ASAP Clearances, not only do you avoid these potential problems, but we can also work outside normal office hours to help minimise the amount of time you lose.
Commercial Waste Clearances in London from ASAP Clearances
ASAP Clearances, who are Licensed Waste Carriers, can handle all different types of commercial waste, from snooker tables to seating to shop fittings. Our family-run business thrives on offering the personal touch, and a high quality of customer service. We also offer all types of home clearance – including probate and hoarding projects – across Hertfordshire and London.
If you would like more information, you can contact us on either 020 3475 0508 or 07976 706 970, or you can click on this link and fill in the online form.
---