|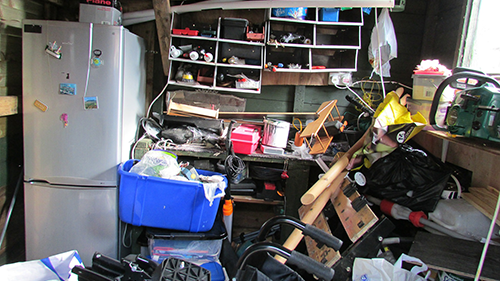 House clearances are one of the UK's growth industries, with online searches showing a steady rise over the last 20 years. Many people are finding that the convenience of using a team of dedicated professionals is a much more efficient and cost-effective way of clearing out, or creating space, in a home.
ASAP Clearances provide high-quality residential house clearances in North London and Hertfordshire. Here we look at some of the key reasons to use a professional clearance service.
To Save Time
If a loved one has passed away, you will have a lot of items to sort out and things to do – telling relatives and friends, organising the funeral service and so on. You will also have to decide what to do about their home and possessions.
Going through all their belongings can be an extremely emotional and time-consuming task, as you will need to decide what to keep and what to dispose of (and who to give it to).
If time is a problem, then it would be much better to leave this in the hands of a professional house clearance company like ASAP Clearances who will be able to sort out what goes where sensitively, quickly and carefully. This will give you more time to sort out all the other arrangements and give you some space to grieve.
To Save Money
Although professional clearance companies do charge fees, often it can work out cheaper to use them rather than opting to do it all yourself. You have to factor in all the trips to the waste tip you have to make, plus to relatives and friends if you want them to have any of the items.
If there are any larger items, then you may have to factor in the cost of hiring a skip, or a van to take them to a waste site.
Even if you sell certain items yourself on the internet the companies involved usually take some sort of commission.
You've Been Renovating
Sometimes people use residential house clearance companies simply because they need to have a good clear out, and not just because there's been a death in the family. They can help you clear out old fixtures and fittings such as bathtubs, sinks and items of furniture if you have had the builders in, or you have been doing some DIY. And if you have had a particularly busy time in the garden, then we can get rid of all the unwanted plants and vegetation and clear out any sheds as well.
Sometimes you need to have a declutter because you have allowed too many possessions to build up over time. At ASAP Clearances we are highly experienced in dealing with so-called 'hoarding situations' and can clear out large quantities of books, clothes and other household items – giving you much-needed space.
To Sell a Property On
Relatives who have suffered a bereavement might also need a house clearance in order to empty the property to make it fit for reselling. Letting a professional company do this is invariably a much quicker process than doing it yourself.
Equally, if you are downsizing into a smaller home residential house clearances are an efficient way of getting rid of items which you don't want to take with you – or simply haven't got room for. And if you find your new home has a few extra items in it that you weren't expecting or don't need, then a professional clearance company can take care of that as well.
For Legal Compliance
Sometimes residential properties need to be 'given back' to the owner; this can mean the local authority, if it's a council house, or a private landlord (usually this applies to rented properties). There are often terms in the lease agreement which stipulate what needs to be cleared out, and by what time. There's also the area of probate house clearances – for more information, follow this link.
In recent years the authorities have got a lot tougher when it comes to disposing of certain items – whether they come from rented properties or private homes – due to public health concerns. This can apply to some so-called 'white goods' such as refrigerators (because of issues with CFCs) and older furniture (because of fire safety concerns).
At ASAP Clearances we hold a Waste Carriers' Licence which means we know what to do with these potentially hazardous items and where to take them.
Residential House Clearances in North London and Hertfordshire from ASAP Clearances
ASAP Clearances provide residential house clearance services in North London and Hertfordshire, including Barnet, Hampstead, Highgate and Potters Bar. If you would like to know more, click on this link, or you can email us on info@asapclearances.co.uk.
---