|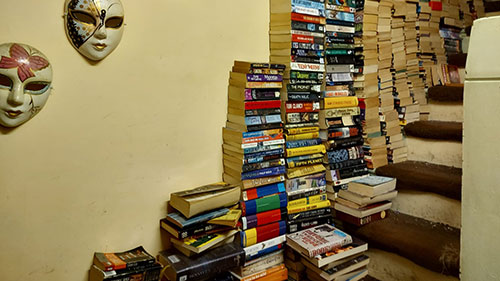 Hoarding clearances have developed as a specialist service since the condition of hoarding was first recognised as a mental illness nine years ago. It's believed that as many as one in 20 people in the UK suffer from this particular disorder.
A hoarding house clearance can also be classified as a probate clearance, where the house and its contents need to be valued as part of a deceased person's estate.
ASAP Clearances offer all types of house clearances in Barnet, Hampstead, Highgate and across North London and Hertfordshire. Here we outline some of the key challenges of hoarding and probate clearances.
Hoarding – a Medical Condition
The NHS website describes someone with a hoarding disorder as having acquired "an excessive number of items and stores them in a chaotic manner, usually resulting in unmanageable amounts of clutter".
It is more likely to affect those who are single or live on their own, have a history of hoarding in the family, or have another medical condition which contributes to it.
For instance, people who are wheelchair-bound or have limited mobility are going to find it physically much more difficult to throw away items; and people who suffer from conditions such as clinical depression, obsessive compulsive disorder (OCD), dementia or schizophrenia may not be able to categorise and dispose of items as easily. Sometimes it may be an event, such as a death in the family, which is at the root cause of the problem.
The Challenges of Hoarding Clearances
The Volume of Possessions – Hoarders typically amass a vast number of items which they can't bear to throw away or be parted from. These can be piled on any surface, including chairs and tables as well as floors, and often quite untidily (which is one of the key differences between hoarders and collectors, who usually keep their items in a well organised fashion). Sometimes important personal documents (which need to be kept and preserved) can be buried in a pile of much more trivial material.
The Health Hazards – The number of items in the home can make it difficult for any cleaning to take place. In such environments, rats or insects can thrive and it can sometimes be difficult for professional house clearers to get into or out of a property. If the hoarder's habit extends to keeping food well beyond its sell-by or best before date, then the health hazards increase.
The Stigma – Although it's now been recognised as a medical condition, there is still some social stigma attached to it. This may lead the person (or members of their family) fail to report the issue to their GP. Sometimes, the hoarder may even refuse to accept that they have a problem, even when presented with the evidence. All of this can mean that the issue persists (both in terms of the health hazards and the volume of items hoarded) for far longer than it should do.
The Time Factor – because of the volume of items and the potential health hazards (which may mean the property has to be professionally cleaned before it can be cleared) hoarding clearances can take a long time, particularly if the hoarder is still living there, or is about to be taken into care; you may need to either work around them, leaving them space for cooking, eating and sleeping, or to keep certain items but not others.
Additional Challenges of Probate Clearances
With probate house clearances, because the house has been valued as part of an estate, a number of different parties are involved - solicitors, any other executors of the will, and other family members. All of this can potentially complicate the whole issue – and all at a time when people may still be grieving for the deceased person, as well as trying to sort out other arrangements such as the funeral.
Probate clearances, by their very definition, can be more comprehensive than hoarding clearances because the occupier will definitely have passed away (although in many cases this applies to hoarding clearances as well). This means the entire house (and the garden) may need to be cleared, readying the property for a sale. This may mean clearing items which might normally be considered part of the fixtures and fittings, such as a stairlift. If the property is rented, then there may be extra pressure from the landlord who wants to get the next tenant in as quickly as possible.
Probate and Hoarding House Clearance Services in London from ASAP Clearances
ASAP Clearances are highly experienced in dealing with all types of house clearances in Barnet and across London – including hoarding and probate cases. We appreciate the need to be understanding and compassionate in cases like these, and you can be assured of our total commitment to confidentiality.
We will retrieve any important documents from within the property and dispose of any unnecessary items sensitively with all due regard for everyone's feelings. If there is any in-date food or any items which the person or family has no need for, then we will donate these to a food bank or charity shop; we always aim to recycle rather than send anything to landfill. And with any hoarding or probate house clearance in London, we liaise closely with solicitors as well as families to make sure the property is cleared efficiently and quickly.
If you would like to know more about any of our services, follow this link and fill in the online form. You can also call us 020 34750508.
---