|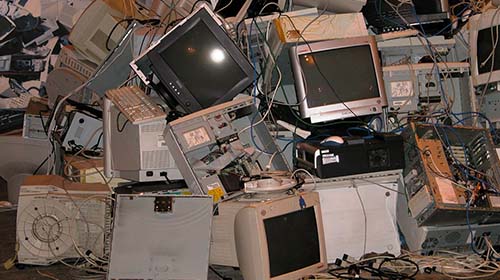 While some local authorities do make special arrangements for commercial waste, businesses can't rely on this service in the same way that householders can. This is because the onus is very much on companies to ensure they keep the amount of rubbish they generate to a minimum.
However, there are a number of occasions when the amount of waste that you generate can't be disposed of in the usual way. Here ASAP Clearances, who offer commercial waste clearance services in Hertfordshire and many parts of London, outline some of the principal circumstances when you really need to call in specialists such as ourselves.
Obsolete Stock
Many businesses sell a lot of products at certain times of the year, and therefore need to create space for specific winter, summer, or holiday stock. There's also the issue, for clothing stores, of what's in fashion and what not.
If you can't recycle these items, or sell them at a loss, then it may be best to let a commercial waste clearance company deal with them. This is because they may be able to find them a new home far more quickly than you can.
Downsizing – or Expanding
Sometimes businesses move simply because they have come to their end of the lease. However, a move will always generate additional amounts of waste, whether you are moving to somewhere bigger or smaller.
If it's a case of downsizing, which many companies are doing these days with working from home being so popular, then some office furniture such as desks and chairs won't be needed any more. At the same time, electronic waste (above) can also be a problem. Sometimes you may need to replace or upgrade it even when you are not moving.
Even if you are upsizing you may not need as many filing cabinets and desks. as technology means you can store far more documents online or remotely. In this case, you'll be left with a lot of items which you won't necessarily be able to find new homes for, but a commercial waste clearance company will.
Fire or Flood
It's been estimated that there are around 22,000 workplace fires every year in the UK, which works out at more than 400 a week (although a lot of these fires are very small or insignificant). Some of them may be due to faulty or improperly used electrical equipment, whereas others may have been started by arsonists.
Fires are a problem for small businesses in particular, as the flames and smoke can do a lot more damage in a small area, and smaller businesses may be less able to absorb any rebuild costs. The Government's official website also points out that small businesses are more likely to be affected by flooding than fire.
Even with a flood plan for your business, you won't necessarily be able to foresee every eventuality (and remember not all floods are due to excess rain – some can be due to plumbing problems such as burst water mains and pipes). Whatever the cause, you may end up with a lot of ruined items you need to dispose of, and a commercial waste clearance company can be the answer.
There are Benefits for You Too
It's not just about finding the right occasion to use a waste clearance company, there are other benefits as well. You will have more time to concentrate on your business's core activities rather than spending valuable time dealing with the issues listed above.
You will also have peace of mind, particularly if there are any potentially hazardous materials that you need to get rid of such as certain chemicals and asbestos. There are also rules surrounding electronic or e-waste. Professional waste clearance companies will know what the laws are, what should be removed, and where to.
Commercial Waste Clearances in Hertfordshire from ASAP Clearances
At ASAP Clearances we can help move all sorts of commercial waste, from conventional office furniture to more unusual items such as pool and snooker tables. We will always try to reuse or recycle any items rather than send them to landfill.
If you would like to know more about our commercial waste clearance then follow this link or call us on 020 3475 0508.
And we don't just offer commercial services – we can offer probate house clearing, block management clearance, plus garden and building waste clearing, across Hertfordshire and London. For more details contact the number above.
---