|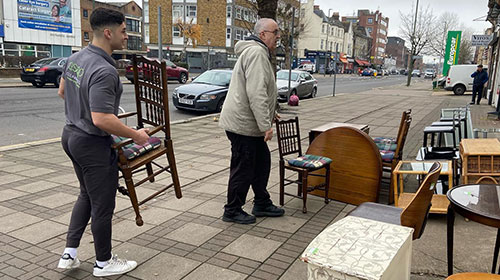 While solicitors can deal with a lot of the problems arising from a death in the family – and, more specifically, issues relating to probate – they can't deal with everything. Here ASAP Clearances outline how and why they often need the services of a probate house clearance service in and around London.
1. House Clearance Companies Have the Time...
Probate house clearances can be time-consuming – particularly if you aren't experienced in carrying them out. Solicitors and will executors usually don't have the time to spare to devote to the task. Even quite a small estate can be quite challenging for someone who hasn't carried a clearance out before. However, experienced clearance companies will be very efficient with their time, which can be particularly important if the house is being prepared for a sale.
2. ..and the Expertise...
Solicitors may know all about the finer points of the law, and details about tax liabilities, but not about some of the finer points associated with house clearances.
Some elements of a clearance, such as older furniture (which don't comply with modern fire safety regulations) or anything which contains asbestos, can't simply be sold on or taken down the nearest household waste recycling facility. Professional probate clearance companies know all about what you can and can't do when it comes to disposing of potentially hazardous items.
3. ...and the Contacts...
Professional house clearance companies often have a network of contacts they can rely on when it comes to dividing up and disposing of all the possessions in a house, even if the items themselves aren't hazardous. This includes placing belongings with local charity shops and specific individuals, and also ensuring that as much as possible is either recycled or reused rather than being sent to landfill.
At ASAP Clearances, we can also donate any spare in-date food to a local food bank or homeless shelter.
4. ...And they Can Provide Additional Services
Solicitors also can't carry out a number of other things relating to probate house clearances. Many probate house clearances require heavy, physical work which legal practices aren't equipped to carry out. At ASAP Clearances we can clear entire gardens and houses, whatever condition they have been left in – and even if it's a hoarding house clearance and there are a lot more items involved.
We can also dismantle some of the more unusual fixtures and fittings (such as stairlifts and other mobility aids) if required. Once everything is removed, we can then provide a professional cleaning service as well.
Probate House Clearance Services in London from ASAP Clearances
If you would like to find out more about our professional house clearance service in London, any of our other services, or to get a quote, please contact us today on either 020 3475 0508 or 07976 706 970.
---